#DrumstickBucketList
Drumstick is turning 60 years old this year, and has been reflecting on its life. It's achieved so much over the past six decades, but there are still some things it's always wanted to do!
Can you help Drumstick complete its bucket list for a chance to win great prizes?

---
Meet a pug.
Crowd surf.
Write my name in the sand.
Sleep under the stars.
Climb a mountain.
Go dancing.
Get a gym selfie.
Try yoga.
Taste ice-cream.
Relive the 80's.
Watch the sun set.
Get handed to a random person.
Go to a festival.
Actually play the drums.
Fly.
Run a marathon.
Sit on a motorbike.
Swing on a tree swing.
Skateboard.
Get a selfie with a celebrity.
Ride in a hot air balloon.
See the Northern Lights.
Visit Vegas.
Be kissed.
Relax in a hot tub.
Be used as a chat up line.
Go to the movies.
Spin in a Waltzer.
Play football.
Visit a famous landmark.
Be frozen.
Be reviewed by a food critic.
Get a picture with a Queen's Guard.
See a lighthouse.
Photobomb someone.
Be left as a tip.
Be used as a miniature guitar.
Get a selfie with a doppleganger.
Use my wrapper as origami.
Be filmed in slow motion.
Graduate.
Appear on Breakfast Television.
Be made out of Lego®.
Become art.
Have a duvet day.
Be on the cover of a magazine.
Get a shout out on live radio.
Have a song written about me.
Go on a red carpet.
Be part of a magic trick.
Watch tennis at Wimbledon.
Meet a dinosaur.
Go Trampolining.
Become a meme.
Ride in a sports car.
Visit a Zoo.
DJ.
Boogie at a wedding.
Be left in geocache.
Break a world record.
---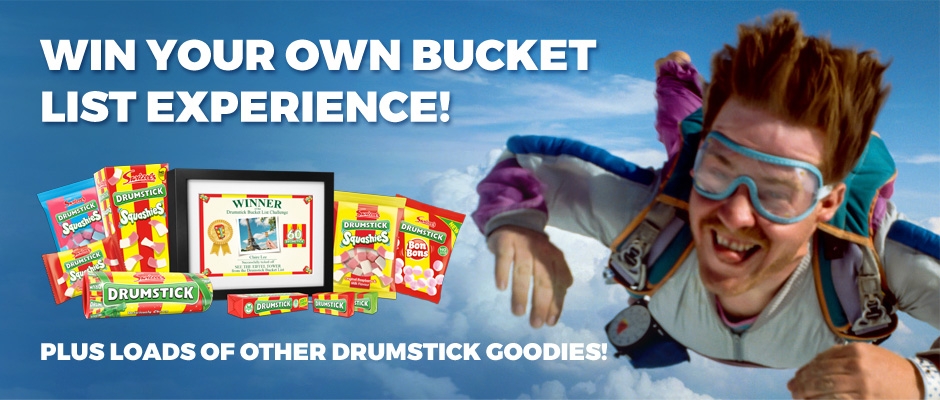 Can you think of something you've always wanted to do?
Our grand prize could see you crossing it off your list! Plus every winning entry will receive an exclusive #DrumstickBucketList certificate and other Drumstick goodies!