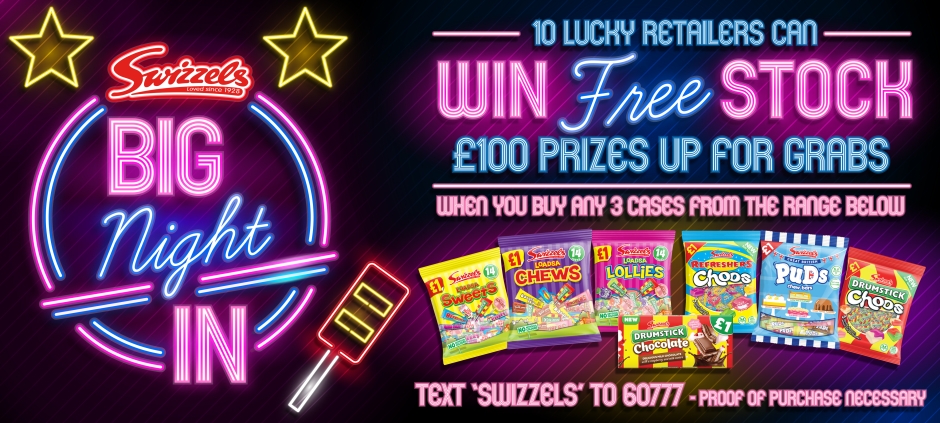 ---
Swizzels 'Big Night in' Trade Text to Win Competition.
Terms & Conditions:
---
Swizzels 'Big Night in' Text to Win Terms & Conditions
These Terms and Conditions prevail in the event of any conflict or inconsistency with any other communications, including advertising or promotional materials. Entry/claim instructions are deemed to form part of the terms and conditions and by participating all entrants will be deemed to have accepted and be bound by the terms and conditions.
The Promoter: Swizzels Matlow Limited, Carlton House, Albion Road, New Mills, High Peak, Derbyshire, SK22 3HA.
Eligibility: This prize promotion is open to all residents of England, Wales, Scotland, Northern Ireland, the Channel Islands or the Isle of Man only, aged 18 years or over.
Entrants must have a mobile phone able to send and receive text messages on a UK network.
Promotional Period: Opens on 1st February 2022 and closes at 23:59pm 31st March 2022.
Entry Instructions for England, Wales, Scotland, the Channel Islands and the Isle of Man: Purchase necessary (excluding Northern Ireland residents – Entry Instructions for Northern Ireland: No Purchase Necessary)
To enter:
Purchase 3 x cases of selected Swizzels sharing bags from the below range during the promotional period and retain your invoice/receipt.  Purchases must be in a single transaction.
Swizzels Puds 12 x 135g
Drumstick Choos 12 x 135g & 12 x 150g
Refreshers Choos 12 x 135g & 12 x 150g
Loadsa Sweets 12 x 135g, 12 x 180g & 18 x 189g
Loadsa Lollies 12 x 135g, 12 x 180g & 18 x 189g
Loadsa Chews 12 x 135g, 12 x 180g & 18 x 189g
Drumstick Chocolate 20 x 100g
Then text SWIZZELS to 60777 anytime from 1st February 2022 to 23:59pm on 31st March 2022. The message will be charged at the service provider's standard network rate but may not be included in any text inclusive package.  Entries received after the closing date will not be entered but may still be charged.
If you are unable to send a text, please check with your network operator first.
No limit on number of entries for residents of England, Wales, Scotland, the Channel Islands and the Isle of Man, However there is a maximum of 5 no purchase necessary entries per month per person during the Promotion Period for Northern Ireland.
All valid no purchase necessary entries will be given an equal chance of winning as all other entries.
All other provisions of these Terms and Conditions shall apply equally to entries via the no purchase necessary route.
Entry is by text only. Only one entry per invoice/receipt (i.e. for each separate entry the entrant must purchase a further 3 x cases of Swizzels products.  For the avoidance of doubt only one unique mobile number will be accepted per person, and a person can use this mobile number to enter once per day (one entry per invoice/receipt).  Any further attempts to enter will not be counted but could still be charged.
Text lines are open 24 hours until 23:59 on the closing date. Ask the bill payer before texting. If you text after the closing date, you will not be entered but you will be charged. Take care when entering the text code; the promoter is not responsible for mistypes and you may be charged at a higher rate
No third party or bulk entries. Entries via third parties or syndicates, entries by macros or other automated means and entries which do not satisfy the requirements of these terms and conditions in full will be disqualified.  If it becomes apparent that either a participant or household is using any means to circumvent this condition such as, and without limitation, fraudulently falsifying data, acting fraudulently or dishonestly in the opinion of the Promoter using identities other than their own or any other automated means in order to increase that participant's entries or otherwise acting in violation of these terms, then the Promoter reserves the right to disqualify these participants and to void any prize entitlement.
Prize Fund:
10 x prizes of £100 worth of free stock at retail sell price. Stock will be chosen by the promoter and delivered to the winner's business address. All Prizes are non-exchangeable, non-transferable and have no cash value. Prize draw will only go ahead if over 25 people enter.
Winner Selection: One winner will be drawn from all entries using an independently verified computer system within 7 days of the closing date.
Winner Notification: The winner will be notified by phone within 7 days of the closing date. It is the responsibility of the entrant to ensure that they respond to the winner notification, either by answering a call or returning a voice message left by calling the freephone number provided. If the winner does not respond within the initial 7 days, they will be telephoned again and given a further 7 days to respond. The winner will be asked to provide proof of purchase if they live outside Northern Ireland. If contact cannot be made, or the prize is not claimed, or if the required information is not provided, within 14 days of the initial prize notification date then the Promoter reserves the right to draw an alternative winner (using the same mechanism as the original winner). The Promoter cannot be held responsible for winners failing to supply accurate information which affects prize acceptance or delivery of their prize.
Promoter's decision is final and binding. No correspondence will be entered into. The Promoter reserves the right to verify the winners and ask for proof of purchase, identity, age, address and invoice with proof of purchase. The Promoter reserves the right, at its sole discretion, to eliminate or disqualify any entries or entrants that it regards as being in breach of these terms and conditions or the spirit of the Promotion. The Promoter reserves the right to disqualify any person who tries to circumvent the entry process and/or entry instructions by any method and to void any prize award.
The name and county of the winner will be made available to entrants after the prizes have been claimed. To obtain this information, entrants can send an email to wecare@swizzels-matlow.com from 28 days after the closing date.
The Promoter reserves the right to cancel, amend, withdraw, terminate or temporarily suspend this promotion in the event of any unforeseen circumstances or technical reason outside its reasonable control, with no liability to any entrants or third parties but will use all reasonable endeavours to avoid consumer disappointment.
Entrants' personal data submitted in connection with the promotion will be processed by the Promoter for the purpose of administering and managing the promotion, distributing prizes and verifying the eligibility of entrants/winners. Data processed by the Promoter will be processed in accordance with the Promoter's Privacy Policy: swizzels.com/privacy.
LIMITATION OF LIABILITY
2.1 Insofar as is permitted by law, the Promoter, its agents or distributors will not in any circumstances be responsible or liable to compensate the winner or accept any liability for any loss, damage, personal injury or death occurring as a result of taking up the prize except where it is caused by the negligence of the Promoter, its agents or distributors or that of their employees. All entrants' statutory rights are not affected.
2.2 In any event, liability of the Promoter is limited to the maximum value of £1,000.
2.3 The Promoter is not liable for any costs incurred by winners in the redemption of any of the Prizes.
2.4 Neither the Promoter, its employees or agents shall have any responsibility or liability for any of the following:
(a) Any incorrect of inaccurate entry made;
(b) Any system failures on any of the websites or platforms being utilised to run the Competition;
(c) Any third party's failure to fulfil its obligations under these Terms and Conditions; and
(d) Any third party failure that results in the interruption or cancellation of the Competition and/or any Prize that may be associated with the Competition