Packaging helps protect products and reduces food waste however we are aware that plastic packaging can be a significant environmental problem when it's not reused or recycled. Research also shows that our consumers want us to help them to adopt a more sustainable lifestyle.  This is because they are worried about climate change, environmental damage, and plastic waste pollution.  Specifically, they want us to remove plastic in packaging where possible and use less single-use plastics.  Our sustainability strategy acknowledges this.
---
Swizzels' sustainability strategy is based around 5 pillars.
Remove plastic
We are removing all unnecessary packaging for example by making bags smaller or bagging films thinner, without it impacting on quality or cost.
Reduce waste
We are actively reducing the amount of waste Swizzels sends to landfill.  For example, we now segregate waste within our factory to ensure it can be effectively recycled.  Cardboard, clear pallet wrap, empty plastic jerrycans and damaged consumer units are all now separately compacted and collected for recycling.
Any food waste not fit for human consumption is not thrown away.  Instead it is collected and used as animal feed.
Improved consumer messaging
Swizzels have joined OPRL, a recognised labelling scheme that makes it much clearer to the consumer on what is recyclable, and how to recycle it.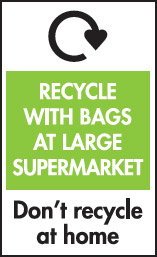 Much of our bagging film is now suitable for recycling at larger supermarkets and therefore will not need to be sent to landfill once the contents have been consumed.
Reuse containers
We have purchased nearly infinitely reusable plastic containers for on-site transportation of product. This has removed the need for us to purchase cardboard boxes that have a very limited life span.
Decarbonisation
Our goal is to actively reduce our greenhouse gas emissions per tonne of product produced.  We are partnering with an energy management company to set a baseline of our carbon emissions, and establish our Scope 1, 2 and scope 3 non-direct carbon emissions.  This will help us set a reduction target aligned with UK emissions targets.