Cook up a spooky feast for all the family this halloween with a range of deliciously creepy goodies. Scroll down for all the gory details.
---
Cheesestring Fingers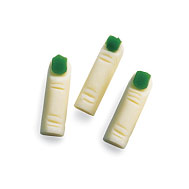 Ingredients:
Cheesetrings.
Green bell pepper.
Cream cheese.
Instructions:
Use a paring knife (parents only) to cut each string in half and then carve a shallow area for a fingernail just below the rounded end of each half.
Mark the joint right below the nail as well as the knuckle joint by carving out tiny horizontal wedges of cheese, as pictured.
For the fingernails, slice a green bell pepper into 3/8-inch-wide strips. Set the strips skin side down on your work surface and trim the pulp so that it's about half as thick. Then cut the strips into ragged-topped nail shapes and stick them in place at the ends of the fingers with dabs of cream cheese.
---
Pizza Mummies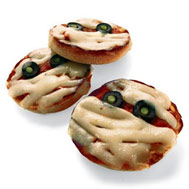 Ingredients:
Muffins.
Pizza sauce.
Black olives.
Spring onions.
Red or green pepper.
Instructions:
Heat the oven to 350°F. For each mummy, spread a tablespoon of pizza sauce onto half of an English muffin (toast it first, if you like).
Set olive slices in place for eyes and add round slices of green onion or bits of red or green pepper for pupils.
Lay strips of cheese (we used a pulled-apart cheese stick) across the muffin for the mummy?s wrappings.
Bake for about 10 minutes or until the cheese is melted and the muffin is toasty.
---
Hot Dog Mummies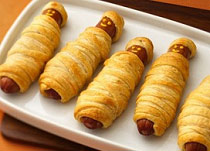 Ingredients:
1 pack of ready rolled puff pastry (available in the chilled aisle of most supermarkets).
1 12-pack of hot dogs.
Yellow mustard.
Instructions:
Fold out the puff pastry and cut into 1cm slices.
For each mummy, separate one breadstick from the roll and use kitchen shears or a knife to slice it in half lengthwise to create two thinner strips.
Wrap one strip at a time snugly around the hot dog. Depending on the size of the hot dog, you may not need all of both strips. Leave about 1/2 inch of hot dog exposed for the face area and continue wrapping the top of the hot dog.
Bake the mummies on a cookie sheet at 350º for 15 to 18 minutes or until the breadstick wrapping is golden brown.
Remove the mummies from the oven and cool them for 5 minutes. Add yellow mustard eyes just before serving. Makes 12 mummies.
---
Ghost Meringues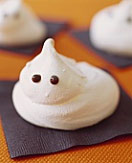 Ingredients:
6 large egg whites.
1/2 Cup superfine sugar.
Brown or black decorating gel.
Instructions:
Preheat oven to 375 degrees.
Using the whisk attachment and an electric mixer, beat the egg whites on high speed until soft peaks just start to form, about 1 1/2 to 2 minutes.
Add the sugar in a slow, steady stream and continue beating on high speed until very stiff peaks form, about 2 to 2 1/2 minutes more.
Scoop out large spoonfuls of the whipped egg whites and place them a few inches apart on the cookie sheet, using your fingers to shape the mounds like ghosts.
Turn off the oven and place the meringues in the oven to dry, at least 6 hours or overnight.
Remove the meringues from the oven and draw on eyes with the decorating gel.
---
Eye Balls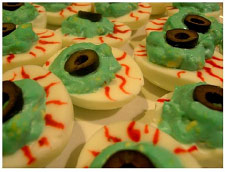 Ingredients:
6 large hard boiled eggs.
3 tablespoons mayonnaise.
1 tablespoon sugar.
1 teaspoon honey mustard.
1/2 teaspoon vinegar.
1/2 teaspoon salt.
1/4 teaspoon pepper.
1/4 teaspoon paprika.
sliced black olives.
Instructions:
Put eggs in a pan and add water enough to cover eggs completely.
Add a teaspoon of salt to the water. This will prevent the whites from running if a shell breaks during cooking.
Bring water to a boil, and cook eggs at a MEDIUM BOIL for about 12 minutes.
Chill eggs in ICE WATER.
Remove shells from eggs.
Cut each egg in half lengthwise.
Carefully remove the yolks, and place them in a medium bowl.
Mash yolks with a fork and add some green food colouring or use a spoonful of guacamole.
Add remaining ingredients, blending until rather smooth.
Very carefully spoon mixture back into the egg whites.
Slice some green or black olives crosswise.
Place an olive slice in the middle of each egg.
Give the eyeballs a bloodshot look by adding a drop of ketchup onto the white of each egg, starting from the center and moving outward toward the edge.
Enjoy your bloodshot eyeballs.
---
Pumpkin Veggie Dippers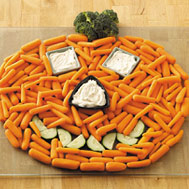 Ingredients:
A large serving tray or cutting board.
1 large bag of baby carrots.
1 cucumber.
1 head of broccoli.
1 carton of your favourite veggie dip.
Ramekins or small bowls.
Instructions:
Create an outline for your pumpkin by laying some of the carrots out in an oblong circle. Once the carrot outline is to your liking, carefully fill in the circle with the rest of the carrots.
Remove enough of the carrots to create a cucumber-filled smile. Set the carrots you removed on top of the other carrots within your pumpkin.
Place halved cucumber slices in the space you created for your carrot pumpkin's smile.
Fill your ramekins with the veggie dip and shimmy them into place where you want the pumpkin's eyes and nose to be.
Slice off the stem of the broccoli head. Place the broccoli at the top of your pumpkin.
---
Salty Bones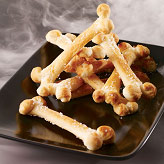 Ingredients:
1 pack of ready rolled puff pastry (available in the chilled aisle of most supermarkets).
Coarse Salt.
Instructions:
Unwrap the packet of refrigerated puff pastry and separate into rectangular pieces.
Working with one piece at a time, stretch the dough to lengthen it a bit and then use kitchen scissors or a knife to cut a 11/2-inch slit in the centre of each end.
Roll or shape the resulting four flaps of dough into knobs that look like the ends of a bone.
Place the dough bones on an ungreased baking sheet, spacing them a few inches apart, and sprinkle on a little coarse salt. Bake the bones until they are light golden brown, about 12 minutes.
Serve with a dip such as humus with red food colouring to resemble blood.
---